Happy Friday to all! I'm back today for some of my favorite things from this week. But really, one of my most favorite things has been working at a manageable pace this week. The last couple of weeks really had me feeling burned out, and I'm so glad that it was just a temporary season. I hope you had some favorite things in your week as well. Why don't I get to mine?
Working from home
Houston has had some gorgeous weather this week. If you are Texan, you know that you need to take advantage of these spring days before summer and all the humidity start returning. So, I moved my office outside when I could, and the views were top notch. Yes, those are my Spuds in the pool. Moving my office outside was just the thing I needed yesterday afternoon.
Spring Wardrobe Refresh
And, speaking of Spring, I'm doing a bit of a spring wardrobe refresh. Old Navy has some cute dresses that function as both church dresses – and date night dresses. I am loving the puffy sleeve trend – just not if they are over the top. And yes, I also need to work on my tan.
Tanning products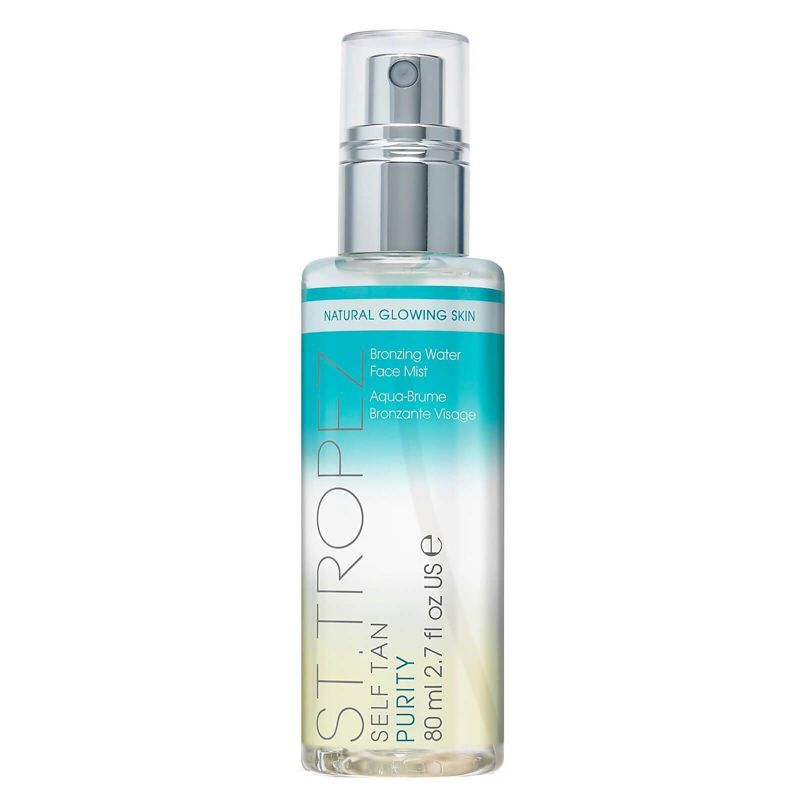 And, speaking of a tan…… I have a wedding coming up next week, and I'm not going to have a real tan by the time it rolls around. So, when I'm in need of a quick (fake) tan, I use the St. Tropez self-tanning mousse. For someone that doesn't use self tanner a ton, it's super easy to apply, smells nice and it doesn't leave you with sheets that look like a crime scene after you sleep in them. I always moisturize first with a lotion, and then I apply with the mit. It hasn't ever led me astray.
Now, I do use their face mist regularly, and I love that product. You literally spritz it on your face and go. It's the perfect product for us ladies on the go – who also want to be semi-glam!
Back to blogging
I was so happy to be back to blogging this week. If you want to know where the heck I've been the last two weeks, you can read all about it here.
The Spuds
The Spuds are getting better, but I'm going to enroll them (and us) in puppy school in May. They just turned 11 months old, and they are big. Tex was 60 pounds the last time we had him weighed at the vet, and Cali was 55. She will probably be about 60 pounds fully grown, and Tex could be close to 70. And, as you saw above, they still love the water.
A sweet treat
A friend dropped by with these cookies. We have a local bakery in Houston that made these cookies. A portion of their proceeds will go to support Ukraine. They will also ship to you!
Simple meals
I'm back to cooking this week. Remember all those meals that make double the recipe, so I freeze them? That came in such handy in March. Instead of stressing about dinner – or ordering takeout every night (only some nights :)), I was able to thaw a meal and heat up quickly for dinner. But, this week, I'm back in the kitchen. I made my shrimp and broccoli dish – and topped it off with some lemon juice and feta.
Spring Flowers
And finally, for my last Friday Favorite of this week for you, Aaron and I are making some plans to refresh our landscaping. I was at the nursery last weekend with my friend, Alice, to get some ideas to refresh our flower beds. But, Aaron and I are planning to get in there this weekend and clear out some of the dead stuff to make way for a couple of new items!
I'm looking forward to this weekend. I've got a bunch of errands to run that I've been pushing the back burner. I see a big Target haul in my near future, and I'd love to enjoy some wine out on my patio – or a restaurant patio at some point. We are headed to church, and I'm doing an endurance run on Saturday morning. Whatever your weekend plans are – enjoy them!