Happy Tuesday! We are in second summer here in Houston, but we've got a true cold front arriving Wednesday. So, what's on my menu this week? I've been having kind of a difficult time thinking about what to make. On paper, we are officially in fall, which normally calls for some cooler-weather foods. But, my weather apps are telling me we are still in the 80s and 90s, which has me feeling some summer foods.
As I was planning out what to make this week, one of my favorite fall recipes ended up on my list, and I made it Sunday night. While, it normally pairs best with cooler weather, it was an A+ easy meal in my book. If any of my fellow Texans are struggling with the same dinner dilemma, let me share what's on my menu this week. All of these meals are simple – and should take you less than half an hour to prepare!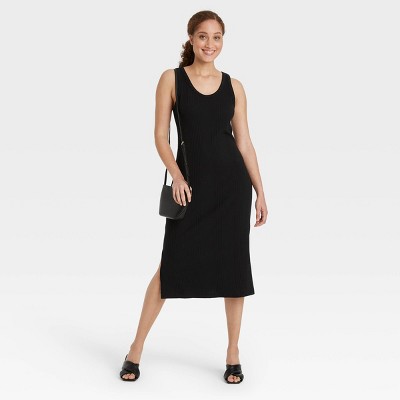 But first, I'm loving the ribbed, sweater dresses, and I picked this one up during my short jaunt to Target over the weekend. I wore it to church yesterday and can comfirm it's comfy. It can also function throughout the winter paired with some booties and a jacket! If you think it's hard to plan out meals with weather that's not even feeling like fall, it's hard to dress like fall!
Fall recipe: pumpkin sausage pasta
Okay, back to regularly schedule programming. On Sunday, I made my favorite fall pasta: pumpkin sausage pasta.
The star of this dish is the pasta. I always use the fall zucchette pasta from Trader Joes. It's made with butternut squash, and it's shaped like little tiny pumpkins. It's perfect for this dish.
Pumpkin sausage pasta ingredients
1 pound of pasta
1 can of pumpkin
1 pound of Italian sausage (you can do mild or spicy here)
1 small onion – diced
3 cloves of garlic – minced
3/4 cup chicken broth
Fresh parmesan to finish your dish
Cook your pasta according to directions on the package.
While your pasta is cooking, brown your sausage. When the sausage is almost done cooking, add in your onions and garlic and sauté.
Once your meat, onions and garlic are cooked, add in the chicken broth and reduce heat to simmer.
Then, combine the pumpkin and stir until combined.
By then, your pasta should be done cooking, combine your pumpkin/meat mixture in with the pasta and top it all off with fresh parmesan cheese.
This dish is so easy and so delicious that you can make it any night of the week (even if it's not quite fall in your area yet).
More fall favorite recipes
Also on my menu this week, I had my crockpot ranch chicken. I threw the ingredients in my slow cooker yesterday during my lunch, and it was ready just in time for dinner. I chopped some broccoli after I wrapped up my work day, and let it steam for about 20 minutes in my slow cooker.
It's going to be taco night at our house tonight! No fancy recipe needed, but I figured that tacos are always a good thing to throw into the dinner rotation. I like to add cheese, avocado, and also some tomatoes and purple onions from time to time. You need something quick and easy? This is your sign to make it a taco night.
I've got my Instant Pot Egg Rolls planned for Wednesday night. It is a true one-pot meal, which my husband loves. (I cook, and he cleans in our house). This will be the perfect meal as our cold front is rolling in (and my bad attitude about a lingering summer is rolling out).
And on Thursday, it's going to be leftover night! I've got a busy tail end of my week, and leftovers seem like the perfect plan. I also like to include a veggie, so I did pick up some squash, which I'll sauté to serve with whatever leftovers we end up having!
That's all for today. I'll be back tomorrow with a Bachelorette recap!