I hope everyone had a wonderful weekend – they really go by too fast. I had a long list of to-do's on my list, but the essential item was a pedicure. No – really – I needed one.
Ya'll know that I started my Friday morning off with that Pumpkin Pie Spice Nespresso goodness. I found new creamer that I'm very into these days. Normally, I'm just an oat milk creamer type of gal – I don't like anything too sweet.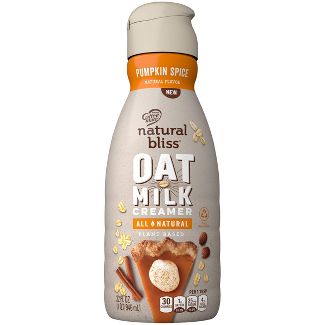 So, when I saw this Oat Milk pumpkin spice creamer at Target last weekend, I grabbed a bottle. It doesn't have a ton of added sugars, so it's not super sweet. It's good!!! Give it a try.
I was able to get through a B-I-G work project that I've had on my list for awhile, so I felt really good about that. I'm also working on some goal-setting for my next fiscal year at work. By the time Aaron and I made it to Friday evening, we were both pretty tired. Staying in, watching a movie and relaxing was at the top of our list!
Saturday
I slept in Saturday morning until about 9, and it was as glorious as it sounds. When I woke up, we got some things done around the house (hello laundry – and hello cleaning). We headed to Luchi and Joey's for some of the best breakfast tacos outside of the Loop in Houston, and we popped over to Terry Hershey park to get some steps in.
It was a bit hotter than I thought it would be. We are supposedly getting a "Fall front" later this week. Stay tuned on that. I would be cool if that the humidity would drop itself down a notch or two. Despite the heat, we made it four miles.
I love the little book stands that you can find along the trails.
After our walk, I met Alice to get a pedicure. And it was the best idea we've had all week. After Florida, my feet were in need of a little extra love. Because I don't have to be as toned down with the colors I wear on my toes – because I'm not in the office these days, I've loved experimenting with some fun colors. I did Arigato from Tokyo this time around. The Olive and June polish is still going strong on my nails. I'm a fan.
Alice and I went for a late lunch at Carraba's, and I always forget how good it is. Their portions are huge – and Aaron and I split my leftovers for lunch yesterday.
While I was gone – the puppies were practicing their swimming. Tex still needs to work up the courage to swim without assistance, but Cali was paddling away. Look at her go! We spent the rest of our evening outside – and headed inside to wrap up our day with The Walking Dead. I can't quit it, ya'll.
Sunday
We headed to church yesterday morning. And I know I've said this before, but I got pretty comfortable watching online during COVID, but there is nothing like an in-person service. We are still in 2 Samuel learning more about the story of David. You can listen to the full sermons on this podcast.
Trader Joe's Fall Favorite
On our way home from church, we swung by H-E-B – and we got back and did a ton of yard work in the front. Our front beds were kind of out of control, so we did a ton of trimming! And after that, I made the chocolate peanut butter mochi cake that I picked up from Trader Joe's last week.
Ya'll – don't sleep on the chocolate mochi cake. It is delicious. The cake itself is easy to make, but you'll need a mixer for the peanut butter frosting. Here's the finished product. It's not the prettiest, but it's delicious. Pick up a box to give it a try the next time you are at Trader Joe's.
Fingers crossed we get that Fall front this week!!!