Happy Wednesday, ya'll. I've shared bits and pieces of our home renovations that we did as a result of the freeze, and I'm here today to share the final product. If you are new around here, you can read about our new house here, and our subsequent damages during the freeze in February.
And, while it was certainly not ideal to have to renovate our new house right away, it ended up not being the worst thing, and we were able to knock quite a few things off our to-do list. The rooms with the most damage initially were my husband's home office, which is where the first leak started – and my home office.
We ended up repiping our home with Pex piping, which was a big project, but I'm so glad we decided to just go ahead and do it. Now, if you are thinking of repiping your house with Pex pipes, just know that you will have more than a few holes. We ended up with about 22 holes of varying sizes as a result of the repipe. They need to cut holes by toilets, sinks, washers, hot water heaters, etc… That's your fair warning.
Our house got a nice, little makeover. As I've mentioned before, we ended up tacking a couple of other projects on while the contractor was here. The extra projects included painting and repairing some imperfections in the hallway where all of our bedrooms are located, painting one of our spare bedrooms a new color, repainting our dining room and replacing the wood flooring in all of our bedrooms. We also had an electrician come in and change out some of the light fixtures. Home renovations at their finest.
Spare bedroom home renovation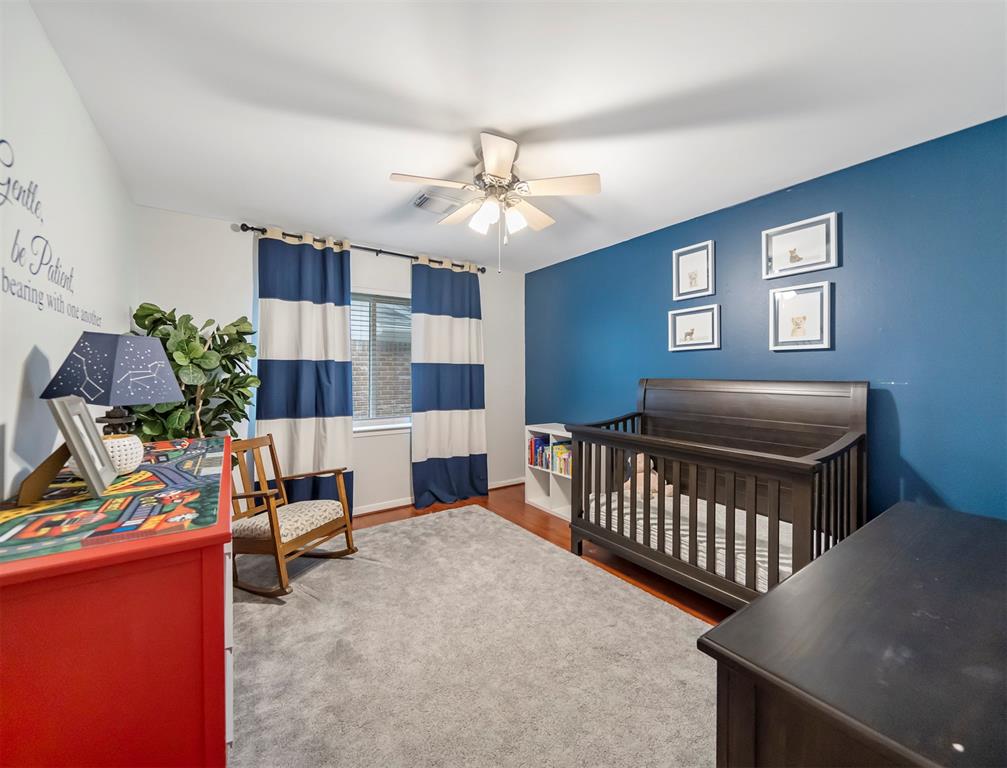 This is what the spare bedroom looked like before. After the previous owners moved out, the text from the Bible verse was on the wall, along with the blue paint. We decided to fix some of the scratches that were there from moving in and out – and change up the paint color to something more neutral. This will be our second guest bedroom/multi purpose room.
Here is what the room looked like after they removed the flooring – and put a coat of primer on the walls. We went with Sherwin William's Agreeable Grey, which is the color that you'll see throughout my house. I love it.
Here is the room with the new flooring – and the new paint. I am incredibly happy with the finished product. We just need to pick out some furniture! And, in case you are wondering, we used Montrose Oak for the flooring.
Office Renovations
I've share our office renovations on the blog before, but here is a quick before and after. I cannot get over how just switching up the flooring and adding new paint changed the entire look and feel of our house. That photo above it what Aaron's office looked like while they were painting. I tried my best to just relax and not worry about the mess. It's all put back together now, and stressing about a misplaced room(s) wasn't going to do me any good.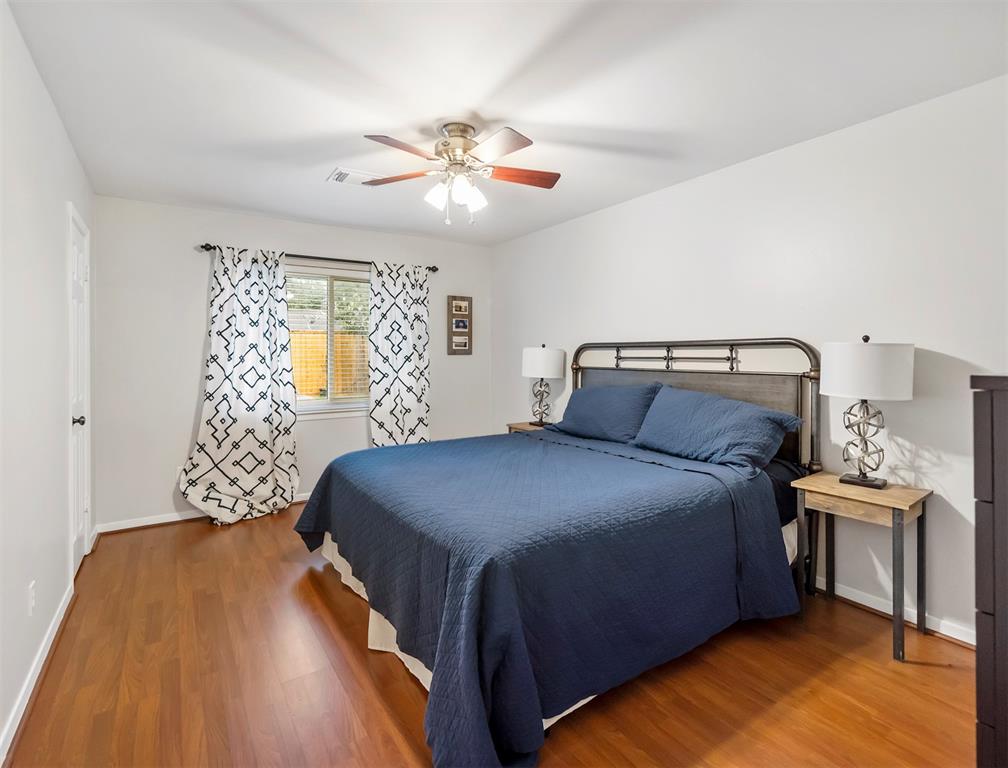 This is what the room looked like with the previous owners. And, here it is today:
Here's my home office:
As you can see, I had a nice, little exposed ceiling. Here's what it looked like in the middle of the work:
And here she is after:
Hole repairs
I had holes in my ceiling that were pretty extensive from the repipe. And here's what it looked like during the renovation process:
And, here's the final product:
Backyard
And because the freeze was so extensive, we had so many leaves drop from our trees in the yard.
And here is our patio now:
A sigh of relief
We are so thrilled to have our home renovations complete, and, nearly a year after we moved in, I'm almost done picking out our furniture and all that fun stuff! What are our next plans? Well, my husband has an outdoor living company, and we are thinking about some fun ideas for our backyard since we spend so much time out there. Those ideas include putting in an outdoor kitchen – and updating our pool area a bit. Stay tuned!