If you are new here, we moved into our new house last September. We are slowly furnishing the house as well go. We didn't have a formal dining area in our previous house, so we needed to completely furnish the dining room. And today, I'm here to give you an update!
The two photos above are what the dining room looked like before we moved in. Aaron and I like to entertain, so finding a large table was top priority. Pinterest and design sites were our friend.
We have a similar rug, which is a couple of years old. It used to be in our living room, but we both like the design and color, so it's going to live in our formal dining room now. It's a safavieh rug, and the same pattern (just a different size) is linked here. We have the 8×10.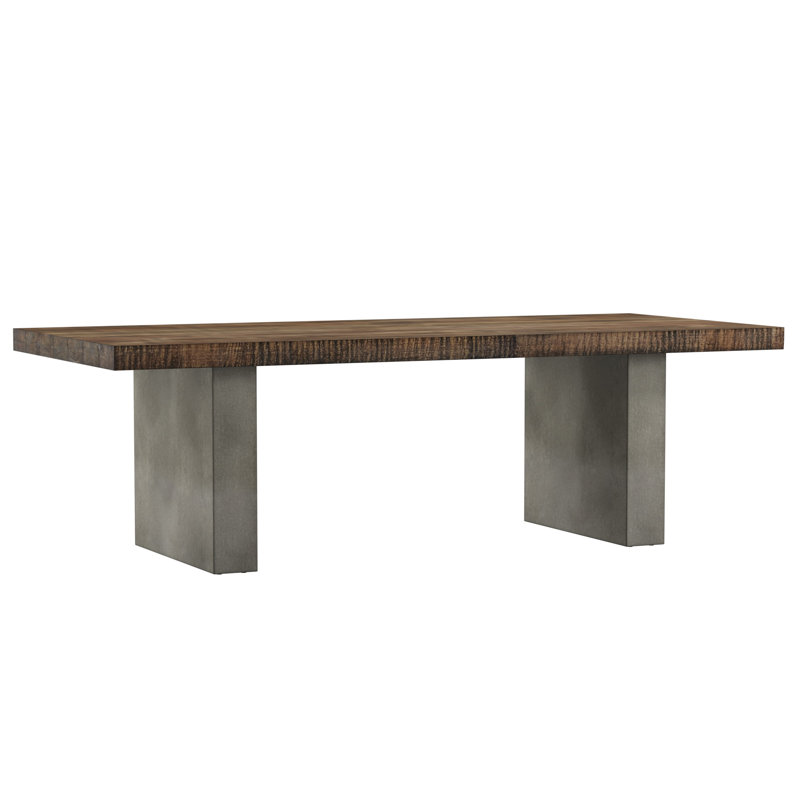 This is the table we chose. We wanted a contemporary look that was still rustic. So, the concrete base, combined with the reclaimed wood top was the perfect choice for what we were looking for.
We also knew that we wanted to do a combination of a bench and chairs, which we thought would allow for more seating – and leave the space relatively open. So, right before Christmas, we went out and purchased the Griffin Bench from Pottery Barn. It has a steel base, and the top is made of reclaimed wood: just like our table.
While we were at Pottery Barn, we chose some chairs, but they were on back order until this month. We went with the Lucas Dining Chairs, and they arrived last weekend!
And here they are. We have space for 8 people. The dining room is almost complete. I'm putting a mirror on that back wall to open up the space a bit, and I have my eye on a Gray Malin print that would go on the right wall to the right of the window. Here are some mirrors we are considering:
We need some window treatments. If you know me, you know I'm the worst decision maker – especially when it comes to house furnishings. I want a light color – like cream or white – similar to what the previous owners had. Aaron wants a gray. So, stay tuned on the window situation.
Other than that, I have plans to buy a centerpiece for the table similar to the ones in the photo above! It's coming together slowly, but surely.